As she completes her master's in horticulture at the University of Minnesota, Elizabeth Carls will also be working with FMR ecologists Karen Schik and Alex Roth throughout the 2018 habitat restoration and monitoring season.
Elizabeth will conduct rare plant surveys, lead our monarch monitoring program at Pine Bend, and assist with bird surveys. She'll also lend a hand at our volunteer and education outings. Be sure to say hello at an upcoming FMR event!
March 2
Bird surveys and wildlife cameras (one of which captured this red fox on film) have long provided a glimpse of how wildlife use our restoration sites. But recently we've been greatly expanding our monitoring to include amphibians, reptiles, pollinators and other insects.
Since the creation of our land conservation program over 20 years ago, FMR has protected, restored or enhanced over a thousand acres of prairie, forest, wetland and other types of wildlife and pollinator habitat in the metro area. But does increasing native habitat result in the return of native animals?
Learn about bird surveys, wildlife cams and our work with local high schools to find out. >>
February 9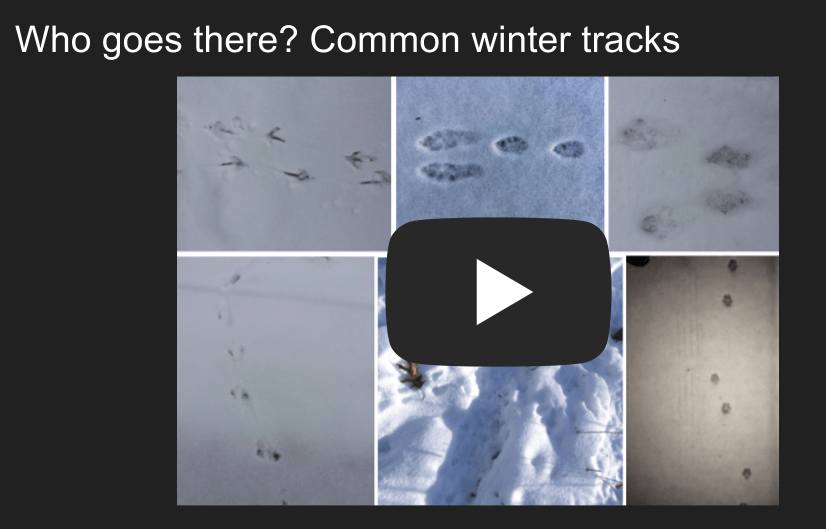 What animals traveled though our yards and landscapes under the cover of night or even right under our noses. >>
January 5
Grown each fall and shed in the spring, the grouse's comb-like foot fringe acts like a snowshoe to help them walk on top of snow. (Photo courtesy of Mary Holland.)
In this month's Nature Notes:  Oh, the surprising things that ruffed grouse have in common with snowshoe hares and aspen trees. >>
December 11
Annie Dubner (left) and Kala Peebles, our stellar summer 2017 intern and SuperVolunteers, about to examine milkweed plants for monarch eggs and caterpillars.
Surveying wildlife, supporting events, braving mosquitoes — Kala Peebles and Annie Dubner were indispensable and indefatigable throughout the 2017 field season. >>
November 9
Monarchs face a complex array of threats, but volunteers are acquiring much-needed data to help the embattled species survive.
Through heat, rain and mosquitos, eight dedicated FMR volunteers surveyed a patch of milkweed plants throughout the summer, hunting for the eggs and larvae of monarch butterflies. Their efforts, combined with hundreds of others', help researchers better understand the complex ecological needs of our iconic, declining monarchs. >>
October 9
The aptly named hummingbird moth or clearwing moth is not uncommon, but with its beautiful colors and wing patterns, it's a delight to see one hovering over flowers seeking nectar.
August 4
FMR volunteer Maggie Heisterkamp was surprised to recently find this giant stonefly on the Robert Street lift bridge.
This surprise visitor to the Robert Street lift bridge is commonly found in trout streams and is considered an indicator of good water quality.
June 9
Seldom venturing above ground, the beady eyes and small ears of the plains pocket gopher are reflective of their underground lifestyle.
Fans of The Lord of the Rings will recognize this query of Gollum, the odd underworld creature, as he pondered the riddle of Bilbo's pocket contents. The star character of this month's Nature Notes is also a creature of the underworld, seldom seen above ground. And like Gollum, these animals have a lead role in the world they inhabit.
April 10
Ever wonder why there's a wintry mist on the water in the morning, but not later in the day? Even when it's still quite cold?
January 6
Pages