St. Paul DIY storm drain stenciling kits reservable for 2020 season
Event Date:
Wednesday, May 13, 2020 - 9:00am

to

Friday, July 31, 2020 - 9:15am
Location:
Date and location flexible. Must be within St. Paul.
Got a group of 2-20? With an FMR stenciling kit you'll be out marking drains, educating neighbors and improving the health of the river in no time.
Note: Our stenciling program has resumed with proper COVID-19 safety precautions. Sign up for a no-contact DIY stenciling kit pickup or socially distanced group outing today or learn more below.
______________________
Most St. Paul storm drains lead directly to the river, bringing trash, oil, road salt, leaves and cigarette butts into our river after it rains.
FMR works with groups of all sizes to stencil storm drains with the message "Keep em' clean... Drains to River" and distribute educational flyers to local homes to help spread the word and keep runoff pollutants out of our river.
Groups with fewer than 20 people can check out a stenciling kit and work with us to plan their own outing, mid-April through mid-October. (Larger groups should check out our regular stenciling program.)
Check out your kit and get stenciling
Step 1: Sign our online pledge and waiver and provide your contact info. Step 2: Someone from FMR's stenciling crew will contact you within a week to confirm and coordinate. Step 3: Pick up your stenciling kit at our agreed-upon time at FMR's downtown St. Paul office. Step 4: Follow the directions and maps in the bin. Groups can stencil any area within the City of St. Paul, so we can usually find a convenient location for most stencilers. Step 5: Return the kit and data to FMR offices by our agreed-upon deadline.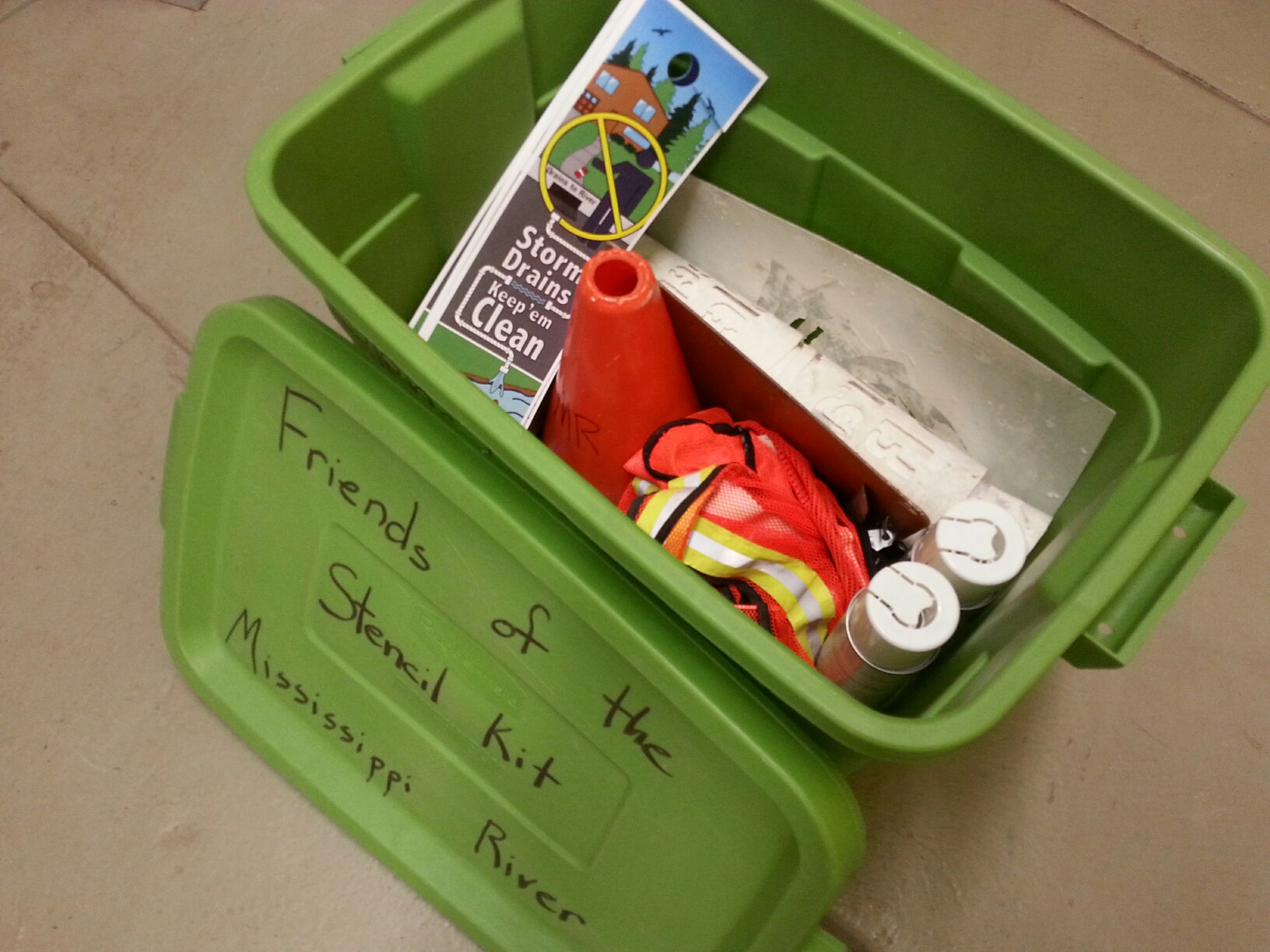 FAQs
A small-group storm drain stenciling service outing:
• Lasts as long as you would like it to. Bins can be checked out for up to one week.
• Can accommodate anywhere from one to 20 people. (Larger groups should check out our regular stenciling program.)
• Is entirely free with all supplies provided.
• Must take place within St. Paul city limits. Volunteers living, attending school or working in St. Paul can usually mark drains near their homes, school or office. FMR Program Assistant Daurius Mikroberts will work with you and your group to select your location.
• Can usually be coordinated within two weeks. However, bins are limited so occasionally we need to wait for another group to return theirs and plan a bit further out.
Need a sneak peek at the kit before signing one out? Check out the video below created by volunteer Will Stock.
Partners:
St. Paul Public Works