Creating 'Prairie Park'
St. Paul Park refinery employees and community volunteers installed over 300 native plants at Prairie Park with FMR this summer. The planting was designed to especially benefit pollinators and serve as a demonstration prairie for homeowners interested in providing backyard habitat. Left to right: Eric Folsom, Todd Bjorgo, Dean Stockwell, Ben Joppa (FMR intern), Corb Hopkins, Kathy Schik. (Not pictured: Tom Bell.)
September 12, 2016
Two phrases not often used together are "prairie planting" and "oil refinery," but many years ago employees at the St. Paul Park Refinery noticed a small, 2-acre patch of native prairie on company property and have been taking care of it ever since.
Located next to the railroad track, the remnant prairie — an original, natural community that had managed to survive to the present day — was hanging on with a small assortment of dry prairie species. As a member of the Wildlife Habitat Council, the refinery was seeking ways to improve their property for wildlife. A team of employees that coordinates the habitat program was able to restore an additional area to the prairie in the early 2000's, more than doubling its size. They dubbed it "Prairie Park," which is open to the public, and continually work to restore and enhance it. 
In 2015, FMR helped the habitat team evaluate the site to determine what management was needed and how to further employee involvement. A great opportunity presented itself when FMR survey work revealed a small area of non-native invasive grasses that needed to be eradicated to prevent further spread into the native prairie. The team decided this would be a great spot for a demonstration prairie, helping visitors to learn more about the importance of the prairie and the plants growing there.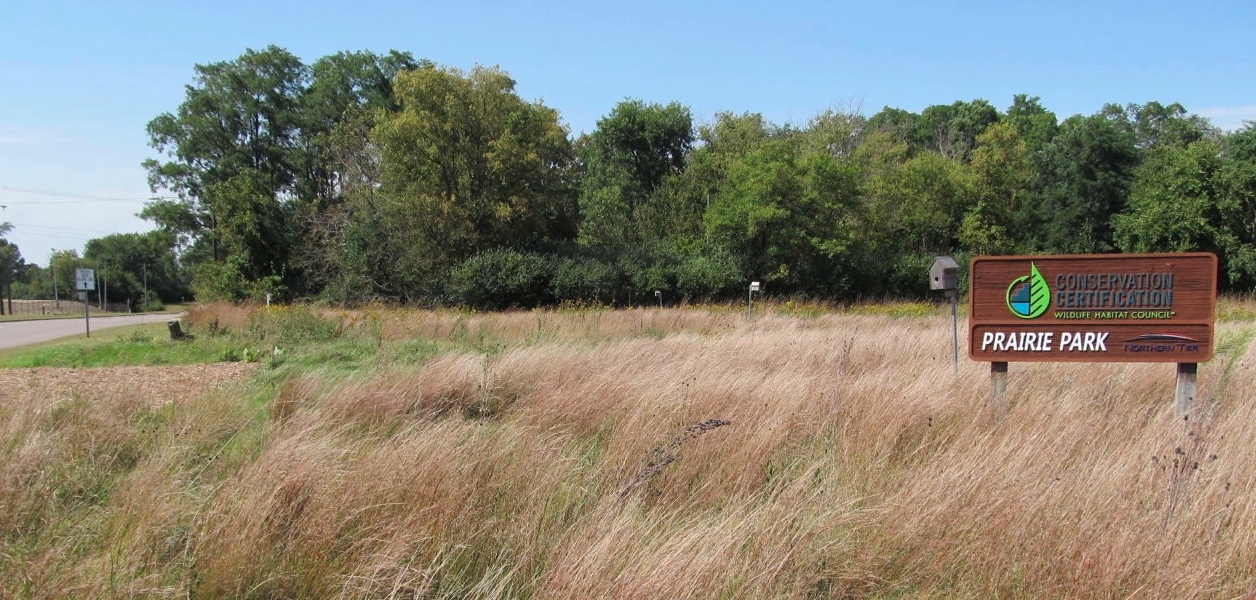 On a very warm, muggy August day in 2016, under heavy gray skies threatening an imminent downpour, a hearty band of refinery employees planted over 300 native prairie plants. FMR worked with Prairie Restorations, Inc. to prepare the site for this volunteer-powered planting. The 23 flowering species were specially selected to be of high value for pollinators, especially bees and monarch butterflies, whose numbers have significantly declined. Prairie plantings have other important functions in the landscape, such as greatly increasing infiltration of stormwater (versus turf or other artificial surfaces), recharging groundwater, providing habitat for native birds and other wildlife and providing excellent erosion control. 
Volunteer planters finished their task in record time — just as the rain started! They'll return to weed and maintain the planting, and also plan to install interpretive signage so that passersby may also learn about the benefits of native prairie plantings. (In a garden setting, they're very low maintenance — requiring no watering, fertilizing, mowing or pest control.)
We thank the employees at the St. Paul Park Refining Company and community volunteers for contributing to the larger effort to increase habitat for our important pollinators!
Similar upcoming events
While FMR is widely known for partnering with public agencies and cities, we also work with many private landowners to restore important natural areas. This includes several Dakota County families as well as private companies, such as the refinery above, Flint Hills Resources and 3M-Cottage Grove. 
If you'd like to see and help restore the Flint Hills property, part of the stunning Pine Bend Bluffs natural area, check out our Saturday, October 15 brush haul and habitat restoration celebration.