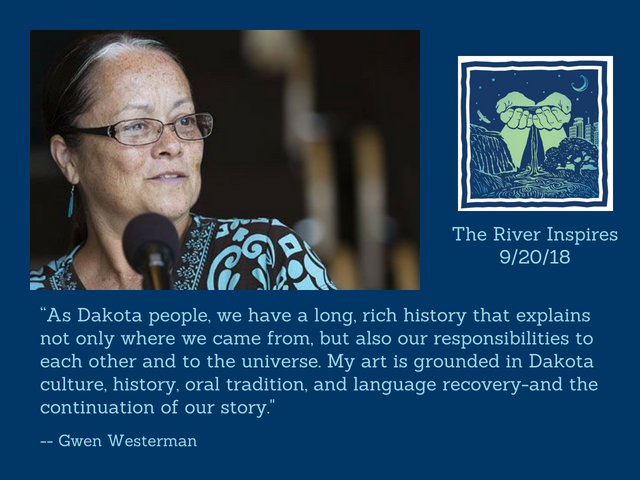 Come be inspired by acclaimed local artists — including Dakota fiber artist, poet  educator Dr. Gwen Westerman — as we celebrate our connection to the Mississippi River at "An Evening Celebrating the Mississippi River," September 20. >>
August 14
Hat's off to FMR's advocates! On August 15, FMR staff hand-delivered 226 comments from River Guardians and other advocates calling on the state to both implement and improve a new state rule to protect our groundwater. >>
August 16
A field of showy golden flowers is a common site in late summer, but is goldenrod to blame for our allergies?
Each year, we get questions about whether goldenrod is contributing to our late-summer allergies. The short answer: Most likely not, it's actually ragweed that's to blame.
In fact, goldenrod plays a role in habitat restoration and is sometimes planted by FMR ecologists. >>
August 13
If you've been to an FMR event, you've likely encountered a SuperVolunteer proudly clad in their identifying T-shirt. To join their ranks, volunteers need to participate in four or more hands-on restoration events (or contribute 20+ hours) throughout the year.
There are plenty of upcoming events in need of helping hands for you to earn 2018 SuperVolunteer status!
August 7
August 3
We're thrilled to share this beautiful feature of FMR's Write to the River project from the Open Rivers Journal of the River Life Institute.
Coordinator Leslie Thomas shares the inspiration for using words and images to deepen relationships with the Mississippi, along with a selection of writing and author interviews. We hope you enjoy it! >>
At best, "perfect" nutrient management on all of Minnesota's cropland would reduce nitrate pollution by about 10-15 percent, falling far short of the state's 45 percent reduction goals to protect our groundwater. >>
July 17
This month we venture to St. Paul's East Side for a trio of riverfront parks home to stunning views, rich history and restored habitat. Check out Indian Mounds Park, Willowbrook and Pig's Eye Lake. >>
July 16
Enjoy poetry from renowned local artist Bao Phi (above) at this year's "Evening Celebrating the River." (Photo by Anna Min)
Don't miss Bao Phi — two-time Minnesota Grand Slam champion and National Poetry Slam finalist — as he shares his poetry and connection to our Big River at our signature annual event, "An Evening Celebrating the River," September 20 in downtown Minneapolis.
This year's theme is "The River Inspires," and spotlights the special connection between the river and our thriving arts community. >>
July 10
Prairie skinks, like this one from northern Iowa, are the newest species to be recorded at Houlton Conservation Area. (Photo from Iowaherps.com.)
This summer, a new prairie is taking hold at Houlton Conservation Area, and we're excited to report back on its newest residents. >>
July 6
Pages