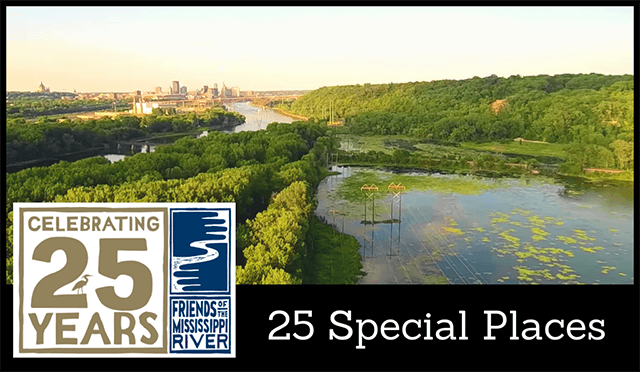 This month in our special places silver anniversary feature, we recommend checking out the miles-long stretch of riverfront parkland on St. Paul's west bank: Harriet Island and Lilydale Park.
(Yes, this part of St. Paul is on the same side of the river as Minneapolis.)
June 15
A new state rule aimed at reducing groundwater contamination by farm fertilizers could be delayed by a legislative move made formal on Monday, June 11. But Gov. Mark Dayton is calling the move unconstitutional and has instructed the Minnesota Department of Agriculture to proceed as planned. 
At this time, public hearings about the new and much-needed water protection rule are still on the calendar, including one in Farmington, Monday, July 16. Expect a River Guardians Action Alert this July as well. >> 
June 12
FMR is pleased to announce that Seitu Jones will be the keynote storyteller at our signature annual event, "An Evening Celebrating the River," September 20 in downtown Minneapolis.
In his five-decade career, Jones has been a fixture of the Twin Cities' art, environmental, agricultural and water communities.
This year's theme is "The River Inspires," and we're shining the spotlight on the special connection between the river and our thriving arts community. >>
June 12
The DeLaSalle High School Green Team showed garlic mustard whose boss at Nicollet Island, our newest habitat restoration site.
So far this spring, FMR volunteers of all ages have removed truckloads of invasive species, planted hundreds of native wildflowers and trees, stenciled hundreds of storm drains and even "bombed" a prairie-in-progress (we mean seed-bombed, of course). 
And we're not even halfway through the outdoor events and outings season!​ >>
June 7
Join us as we bid farewell to Linda Moua as she leaves FMR to pursue an internship at Hennepin County District Court to expand her IT experience. >>
June 6
The 2018 Minnesota legislative session resulted in very good news for a 48-acre riverfront site in North Minneapolis known as the Upper Harbor Terminal. An influx of $15 million state dollars will help kickstart its redevelopment into housing, offices, stores, restaurants, an amphitheater, parks and trails. >>
June 5
While many of the most troubling bills and provisions were eventually defeated this Minnesota legislative session, a mixed bag of stand-alone items were passed and signed into law. ...And, oh yeah, the Legislature unnecessarily raided $98 million from the state's voter-approved Environment & Natural Resources Trust Fund.. >>
June 4
Protecting drinking water and groundwater must be a top priority for Minnesota, and citizens expect this of their state government. Sadly, the legislative session has come and gone with no progress to show for it, paired with a threat to delay the state's Groundwater Protection Rule.
This session, five major bills were introduced that (for better or worse) addressed groundwater and drinking water-related topics. >>
May 24
New legislation has been signed into law that prevents the Department of Natural Resources (DNR) from complying with a  judge's court-ordered conservation measures for White Bear Lake. >>
May 23
After a long winter, our spring prompt inspired writing about the Mississippi River coming back to life — its music, its ice-free movement, and the return of all who call it home. Check out the spring edition! >>
Pages