May 21
After hearing from dozens of community members (including many FMR River Guardians), the Inver Grove Heights city council unanimously voted to save River Heights Park on Monday, May 14. 
The council had been considering carving up and selling the 7.5-acre undeveloped natural area as three 2.5-acre lots for housing developers. Instead, the city, FMR and neighbors are going to work together to make the park more accessible — adding a park sign and bench, with details to be determined — while keeping it a natural area and restoring important bird habitat. >>
May 15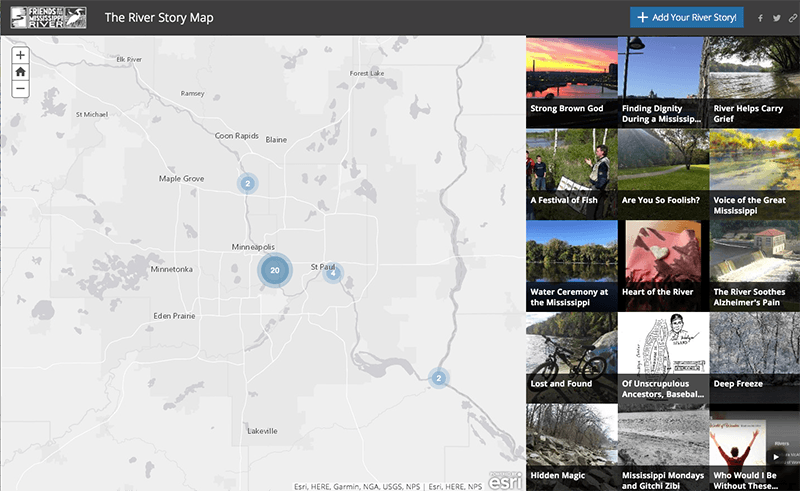 Join us for a collaborative art project to make visible and celebrate the personal relationships we have with the Mississippi River in the Twin Cities. We invite you to tell us about how a meaningful change in your life relates to the Mississippi River. In honor of FMR's 25th anniversary year, we're kicking off the map with 25+ stories! >>
May 14
Charitable contributions to FMR help ensure a healthy Mississippi River and community — no matter the amount of your gift. Check out just a few examples of how your gift has an impact. >>
May 9
Gov. Mark Dayton has fulfilled his promise to veto the wild rice bill (HF 3280)!
The bill would have abolished a longstanding state water quality sulfites standard. It would have violated the federal Clean Water Act, inevitably inviting litigation and turmoil into an already challenging situation. >>
May 9
A prescribed burn rolls through a blufftop prairie at the Flint Hills Pind Bend Bluffs restoration site. (Photo by Karen Schik.)
Spring has officially sprung, and with it comes those familiar signs of life: plants begin to green, flowers bloom, migrating birds return, and fires burn through the prairies at FMR restoration sites!
Learn more about how we use fire to restore wildlife habitat, and the impact of a recent unplanned fire on an FMR restoration site. >>
May 7
Approximately 750 people joined us at the Capitol to urge legislators and Gov. Mark Dayton to invest in clean water and protect Minnesota's great outdoors. >>
May 7
To celebrate our 25th year, each month in 2018 FMR staff will profile places along the metro Mississippi River that are near and dear to us, places that connect to FMR but that we also enjoy in our own downtime. By the end of our silver year, we'll have built a map of 25 special river places for you and yours to learn about, visit and enjoy.
This month: Spring waterfalls
Snow melts and cold spring waters trickle down our yards, driveways, and gutters, ultimately swiftening our creeks, swelling our rivers and making our waterfalls roar. Be sure to check out these two falls — one famous, one not so much, but neither to be missed during spring peak. >>
April 30
Ten bad water bills have been introduced this legislative session that are going to the House and Senate for passage. These bills undermine basic environmental science, roll back existing protections or block public participation in environmental decisions.
April 19
As an FMR member, you'll play an integral role in carrying out our mission to protect, restore and enhance the Mississippi River.
FMR members are more than donors.
Collectively, you spearhead advocacy for clean water policy, conserve critical habitat and engage the next generation of river stewards. All in support of our shared dream: To protect and restore the Mighty Mississippi and make sure it's healthy and accessible to all. 
In celebration of Earth Day, if you're not one already, consider becoming an FMR member. >>
April 19
Pages