Our wildlife cameras caught baby snapping turtles hatching in peace thanks to our new wildlife nest enclosure at Spring Lake Islands Wildlife Management Area. >>
September 10
Join us to celebrate the Mississippi in the midst of its fall splendor, Thursday, September 28. From our beautiful venue on the river, we'll toast to you and the recent successes you made possible.
Guests will hear from keynote speaker, Dr. Dorceta Taylor, one of the country's preeminent environmental justice scholars. Dr. Taylor, who says her work is about opening doors for other people by making the environmental movement more diverse, will talk about the intersection of environmental history, politics and justice, and what we can all do to make our special, natural places more inclusive. 
Additionally, the evening will feature an entertaining river-themed live auction, the renown Davu Seru Trio, and hearty local fare and refreshments — including a just-for-FMR signature cocktail.
As summer turns to fall, Twin Cities communities throughout the metro are moving fast to wrap up their draft plans for land use and development along their local riverfront.
Hastings and St. Paul Park — two cities with an abundance of high quality riverine habitat — are accepting comments through the end of November and December, respectively. Several other cities want public comments submitted before the end of September. >> 
September 6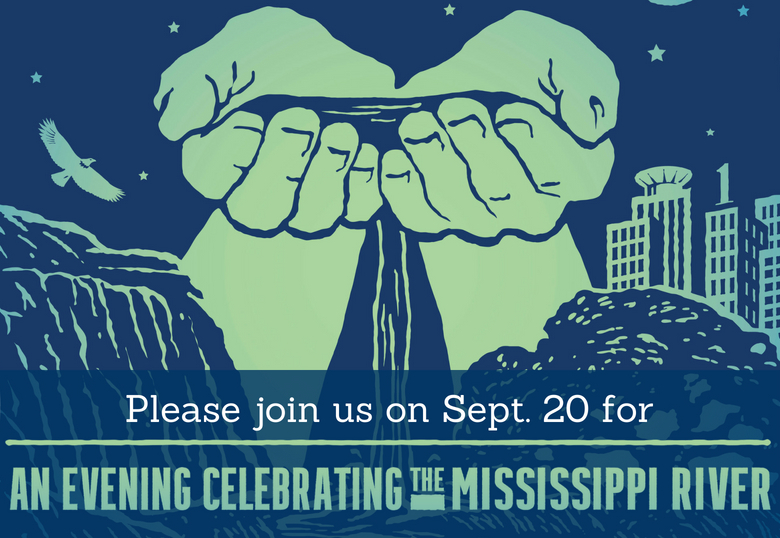 Mark your calendars to join us at FMR's annual Evening Celebrating the River on Thursday, September 20 at the beautiful Aria Event Center in Minneapolis's North Loop. 
This year's theme, "The River Inspires," showcases a wide variety of local artists and their river-inspired artwork, rousing speakers and performances, and much more. >>
Pig's Eye is a favorite spot in our local flyway for pelicans. (Photo by Monica Bryand for Great River Passage.)
A railroad expansion proposal threatens planned community trails that would connect Pig's Eye and Eagle Lakes in St. Paul's largest park.  >>
September 6
Come early to City House or Red River Kitchen to grab a seat on the patio. (Photo from Red River Kitchen)
This month in our ongoing special places silver anniversary feature, we suggest a couple of our favorite spots to grab a cocktail (or mocktail) and watch the river flow by. >>
September 4
After more than two and a half years of community engagement, draft plans for the redevelopment of a mile-long riverfront site in North Minneapolis were revealed mid-August. 
The draft calls for a dramatic overhaul of the Upper Harbor Terminal site, aiming to turn the long-closed port into both a regional attraction and a beneficial part of the North Minneapolis community. >>
August 20
Hat's off to FMR's advocates! On August 15, FMR staff hand-delivered 226 comments from River Guardians and other advocates calling on the state to both implement and improve a new state rule to protect our groundwater. >>
August 16
A field of showy golden flowers is a common site in late summer, but is goldenrod to blame for our allergies?
Each year, we get questions about whether goldenrod is contributing to our late-summer allergies. The short answer: Most likely not, it's actually ragweed that's to blame.
In fact, goldenrod plays a role in habitat restoration and is sometimes planted by FMR ecologists. >>
August 13
Enjoy poetry from renowned local artist Bao Phi (above) at this year's "Evening Celebrating the River." (Photo by Anna Min)
Don't miss Bao Phi — two-time Minnesota Grand Slam champion and National Poetry Slam finalist — as he shares his poetry and connection to our Big River at our signature annual event, "An Evening Celebrating the River," September 20 in downtown Minneapolis.
This year's theme is "The River Inspires," and spotlights the special connection between the river and our thriving arts community. >>
August 10
Pages