From road work to new buildings, construction projects are a constant for most Twin Cities residents. Soon, a new type of project is coming to St. Paul: seven small islands within Pig's Eye Lake.
We look forward to their benefits for wildlife, reduced erosion and climate change research. >>
April 13
Looking for something impactful to do while you're inside? If you reside in Minneapolis or use Minneapolis parks, consider filling out the Minneapolis Park and Recreation Board's Parks for All survey. >>
April 1
Who will the Upper Harbor Terminal redevelopment serve? Fox 9 News recently asked that question. FMR's Colleen O'Connor Toberman was interviewed alongside community members, elected officials, and the development team. >>
November 19
What's next for this special place (and FMR restoration site) on our great river? You can help decide. >>
October 9
A trio of endangered species found at FMR conservation and restoration sites. Left to right: Loggerhead shrike, Blanchard's cricket frog and Henslow's sparrow. (Photos by Terry Ross, Greg Schecter and Jim Hudgins/USFWS.)
Endangered species, fishers, fields of monarchs — FMR ecologists encounter them all at our 37 habitat restoration sites.  
On our new conservation blog, learn more about what our ecologists see in the field, the special places we're working to protect and how we restore habitat. >>
September 9
The City of Cottage Grove has the opportunity to turn an old golf course into open space for wildlife and a recreational park for residents and visitors in an area lacking in river access. Here are our top reasons why we should protect this special place from development.  >>
May 7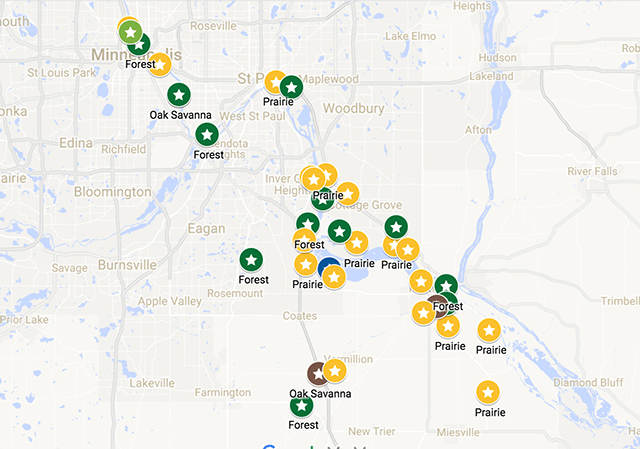 Although our policy and advocacy work tends to make the most headlines, many FMR supporters, members and volunteers highly value the natural areas we protect, restore and enhance throughout the metro area. But even the longest-standing FMR members and volunteers wonder where, exactly, we work.
Wouldn't it be great if there was a way for folks to see all of FMR's 37 active restoration sites in one place? Perhaps some kind of…map? >>
April 9
Bird surveys and wildlife cameras (one of which captured this red fox on film) have long provided a glimpse of how wildlife use our restoration sites. But recently we've been greatly expanding our monitoring to include amphibians, reptiles, pollinators and other insects.
Since the creation of our land conservation program over 20 years ago, FMR has protected, restored or enhanced over a thousand acres of prairie, forest, wetland and other types of wildlife and pollinator habitat in the metro area. But does increasing native habitat result in the return of native animals?
Learn about bird surveys, wildlife cams and our work with local high schools to find out. >>
February 9
Pages