Advocate for the River!
Act online, join us at the Capitol or come learn more about today's most important river issues at special happy hours: Join the FMR River Guardians!
Become an FMR River Guardian
We'll email you when an important river issue arises and make it quick and easy to contact decision makers. River Guardians are also invited to special events, including happy hours, about important legislative and metro river corridor issues. 
Your voice is essential to our efforts to protect, restore and enhance the Mississippi River! From banning pollutants to passing strong rules to guide local riverfront development, many of FMR's victories are thanks to our strong base of advocates.
Please note: If you've signed an action alert online or attended a River Guardians event, you're on the list and don't need to sign up again.
Take action
Click the campaign below, enter your address, and personalize the pre-written letter (optional) to send your message automatically to your representatives:  
     • 05/16/2018 Prevent a raid of Minnesota's Environment Trust Fund
     • 05/15/2018 Protect clean water and parks with these 5 changes to the bonding bill
     • 05/14/2018 Lower the building height of Minnehaha Academy's expansion (for Mpls residents)
     • 04/19/2018 Help us stop 10 bad water bills at MN Legislature
     • 04/13/2018 Save Minnesota's Groundwater Protection Rule
Previous action alerts
     • Inactive 08/25/2017  Act now to protect MN's drinking water and groundwater from nitrate pollution! 
     • Inactive 05/17/2017  Urgent: Protect our Legacy Amendment
     • Inactive 04/19/2017  Today is Water Action Day! Can't be there? Act online
     • Inactive 03/24/2017  Speak up for science!
     • Inactive 03/18/2017  Support MN's Clean Water Fund!
     • Inactive 03/08/2017  Save the buffers!
     • Inactive 03/03/2017  Protect MN's Legacy Amendment Today
     • Inactive 02/27/2017  Stop MN environmental rollbacks - votes are this week!
What we weigh in on
In addition to advocating for strong water quality rules and laws at the state and national levels (see action alerts above or check out our Legislative Updates blog), FMR is involved in a wide variety of metro corridor projects and proposals. We speak up for the river throughout the Twin Cities river corridor. 
     • 1/31/2018 Mississippi Gateway Regional Park Master Plan Letter of Support
     • 11/16/2017 Riverview Corridor Comments
     • 08/25/2017 Nitrogen Fertilizer Rule Comments
     • 08/08/2017 Inver Grove Heights Proposed Sale of River Heights Park Comments
     • 07/26/2017 Stop Carp Funding Letter of Support 
     • 07/14/2017 St. Paul Ford Area C Site Comments
     • 06/30/2017 St. Paul Ford Site Zoning and Public Realm Plan Updated Comments
     • 06/22/2017 Minneapolis St. Anthony Falls Aesthetic Flow Adequacy Plan FERC Comments
     • 06/09/2017 Minneapolis Short Line Bridge Letter of Support
     • 05/17/2017 St. Paul River Balcony Master Plan Comments
     • 03/22/2017 Scherer Site & Hall's Island Reconstruction EAW Comments
     • 02/21/2017 Minneapolis St. Anthony Falls Flow Survey Report Comments
     • 01/24/2017 Governor Dayton's MRCCA Thank You Letter
     • 01/23/2017 Fort Snelling Visitor Center Letter of Support
     • 01/09/2017 St. Paul Ford Site Zoning and Public Realm Plan Comments
Current river corridor advocacy sites
At each of our metro riverfront sites, FMR partners with community organizations, local residents and River Guardians to ensure that the essential values of public access, scenic views, historic preservation and environmental quality are respected.
Note: We're working to update this with more details and information on each site. As soon as it's done, we'll be sure to announce it in our e-newsletter, Mississippi Messages. All River Guardians are automatically subscribed.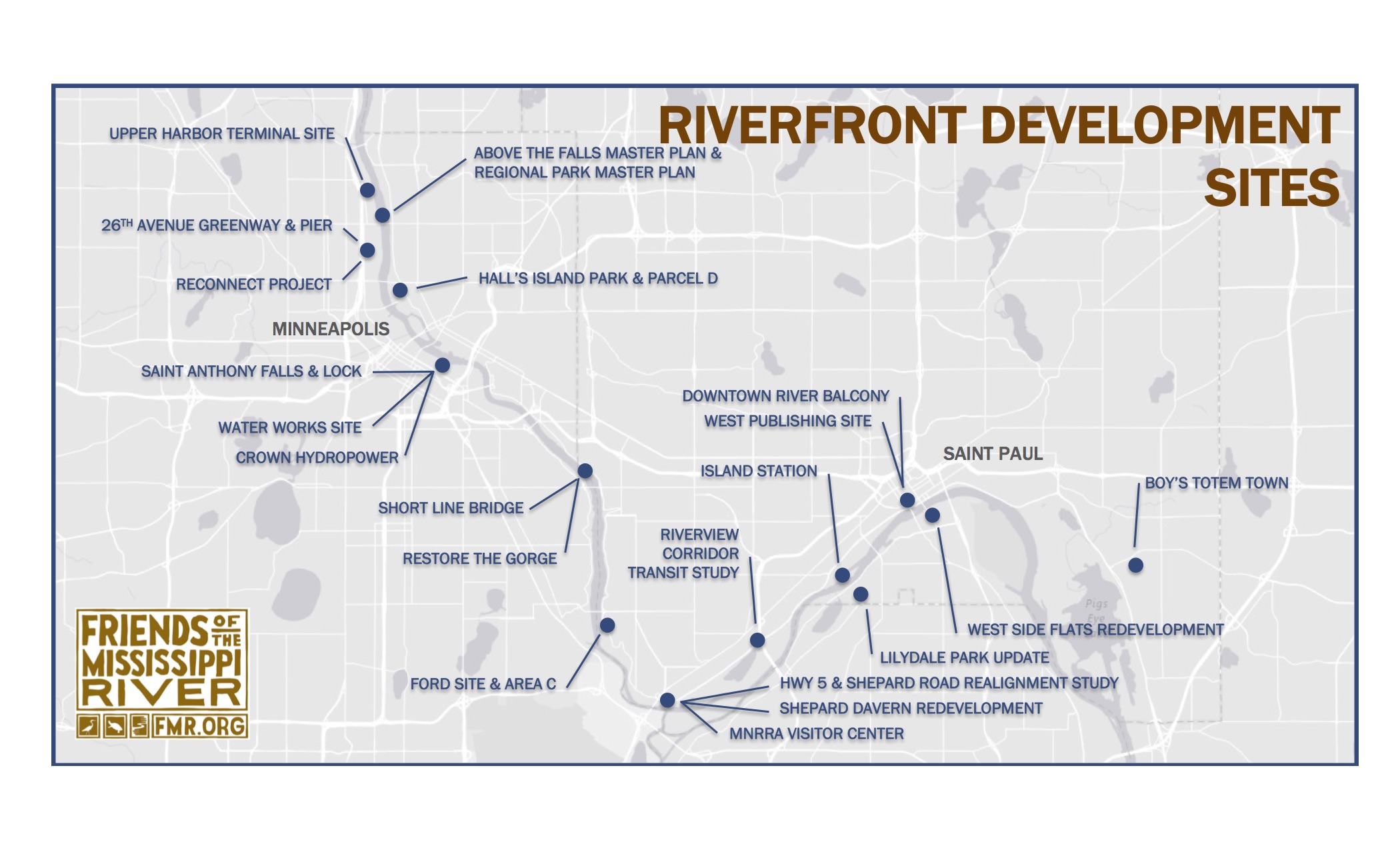 Questions? Concerns?
Please contact FMR Policy Advocate Alicia Uzarek at auzarek@fmr.org or 651.222.2193 x29.