Two Minnesota rivers — including our local Mississippi River gorge between Minneapolis and St. Paul — made America's River's 'Most Endangered' list.
WCCO's Jennifer Mayerle reports:
April 11
Now through Earth Day, $5 from every online purchase will be donated to FMR in support of our conservation and restoration efforts!
Celebrate the Twin Cities' own Mississippi River Road for its scenic pathways, history, heritage, and a place to recreate and relax. Track Club Co has designed a commemorative Mississippi River Road T-shirt. And now through Earth Day, $5 from the sale of each tee will be donated to FMR in support of our restoration and conservation efforts. >>
April 10
The legislature is rolling up its sleeves and rolling back bedrock protections for water quality. Here's our top-10 list of bad water bills (so far) this session. >>
April 10
Identifying scenic vistas, like this view of Hastings from Cottage Grove, is an important component of the local river corridor planning now underway.
Cities up and down the metro Mississippi are busy finalizing their local river corridor plans, but there's still time to weigh in. Some deadlines to submit comments are fast approaching, including July 17 for Cottage Grove and July 22 for Minneapolis. Learn where your city's at in its process and how you can have your say in the shape of your future local riverfront. >>
April 9
Dam removal discussions are ramping up in the Twin Cities, and for good reason. Just as the Army Corps of Engineers embarks on a study to determine future ownership and operation of the locks and dams in Minneapolis and St. Paul, our local Mississippi river gorge was named to the 2018 list of American Rivers "10 Most Endangered Rivers."
Learn more, including FMR's position and recent media coverage. >>
April 9
Part of our local national park — River Heights Park in Inver Grove Heights — is being considered for disposal by the city.
Just eight months ago, FMR teamed up with neighbors to help save River Heights Park in Inver Grove Heights.
Now the park is on the chopping block once again. And the neighbors and FMR are back in action. >>
April 9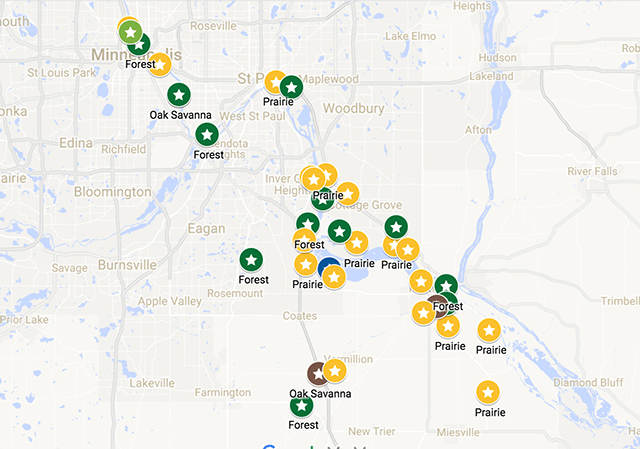 Although our policy and advocacy work tends to make the most headlines, many FMR supporters, members and volunteers highly value the natural areas we protect, restore and enhance throughout the metro area. But even the longest-standing FMR members and volunteers wonder where, exactly, we work.
Wouldn't it be great if there was a way for folks to see all of FMR's 37 active restoration sites in one place? Perhaps some kind of…map? >>
April 9
The Minnesota House and Senate are quickly advancing bills to eliminate water quality standards that protect wild rice – Minnesota's state grain. >>
April 6
We set up a new research project in Hampton Woods (top left) to control buckthorn (top right) and see how different methods (such as the forestry mower, bottom right) best protect and encourage native plants (like the yellow ladyslipper, bottom left).
What pops to mind when you think of restoring a forest? Perhaps people planting trees? ...How about bobcat-like machines busily eating up small trees and spitting out the splinters?
If you'd visited Hampton Woods this spring, this is exactly the scene you would have come across. The machines were forestry mowers, consuming invasive European buckthorn.
Not only were the mowers benefiting the long-term health of the forest, but they're part of a new FMR research project to compare and contrast the effectiveness of different methods to both control buckthorn and support the growth of native plants and habitat. >>
April 5
Spring is here and two new people have joined the FMR team to help us protect, restore and enhance the metro Mississippi River. Meet our new administrative assistant Ray Prince and seasonal outreach assistant Sophie Downey. >>
April 5
Pages