Thank you, River Guardians! We deeply appreciate you advocating for clean water and sustainable and equitable development along the river this past year. >
December 11

New rules are in place and local planning and zoning is underway!
Identifying scenic vistas, like this view of Hastings from Cottage Grove, is an important component of the local river corridor planning now underway.
Cities up and down the metro Mississippi are busy finalizing their local river corridor plans, but there's still time to weigh in. Some deadlines to submit comments are fast approaching, including July 17 for Cottage Grove and July 22 for Minneapolis. Learn where your city's at in its process and how you can have your say in the shape of your future local riverfront. >>
April 9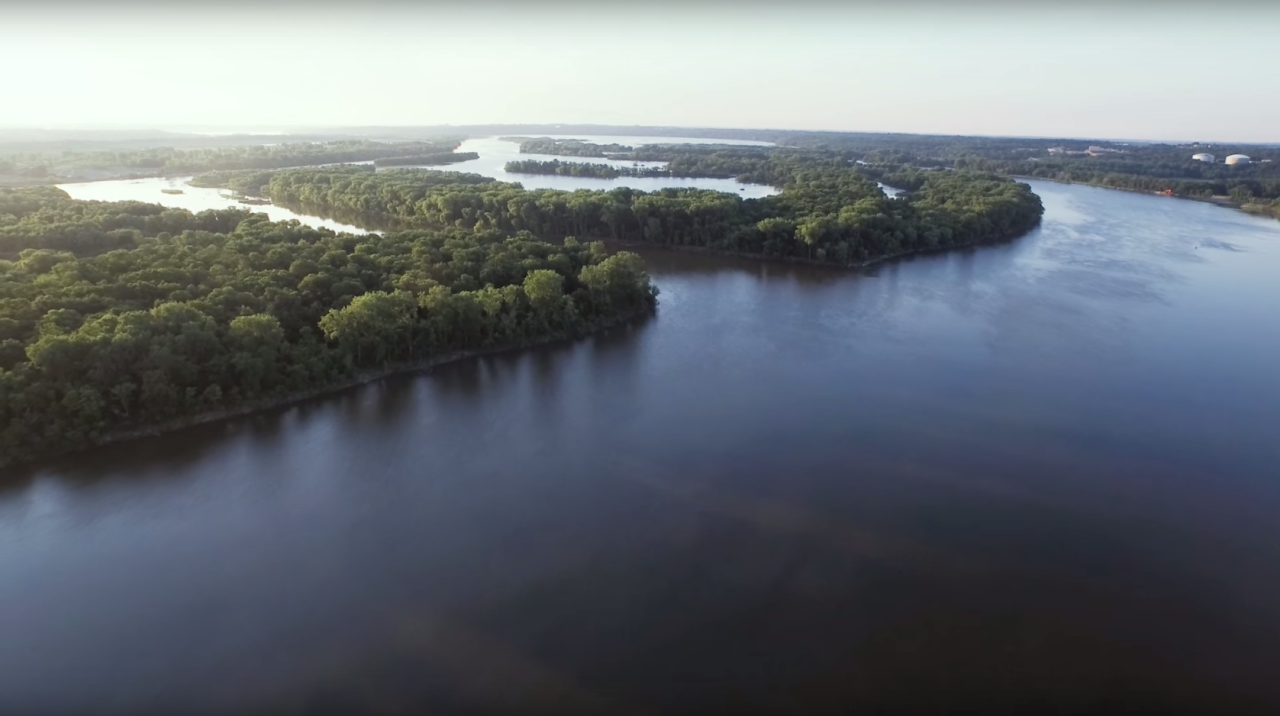 Now through spring 2018, the 25 metro-area cities and towns in our local national park, the Mississippi National River and Recreation Area, are working to identify scenic river views worth protecting. Once each city has determined its list, they must work to protect these views according to new state rules that protect the metro river corridor. Let's help our cities compile the best list possible!
Check out the views submitted so far, and then tell us about yours or help by contributing a needed photo. >>
December 7
Our local national park, the Twin Cities stretch of the Mississippi River, is now protected by FMR-prompted state rules. (Photo by Jim Hudak)
At long last, new State of Minnesota rules are now in place governing land use and development along the metro stretch of the Mississippi River, a.k.a. our local national park! While allowing for growth and redevelopment, the new rules protect the metro riverfront's natural, scenic and cultural treasures. 
December 27
FOR IMMEDIATE RELEASE
From Friends of the Mississippi River
 
December 27, 2016
December 27
Minnesota has finalized new land-use and development rules that will protect the metro Mississippi River corridor for years to come.
Let's celebrate! Please join us for happy hour. We could not have done this without our dedicated river community and citizen advocates. Let us raise a glass in your honor. 
We'll also fill you in on next steps to ensure that the rules are implemented to maximize protections.
Location
Sweeney's Saloon
55102
St. Paul
,
MN
United States
Minnesota US
New land-use and development rules will better protect the Twin Cities stretch of the Mississippi River, our local national park.  
During the final phase of developing updated rules for the Mississippi River Critical Area, the Minnesota Department of Natural Resources recommended a number of positive changes in response to comments from FMR staff and advocates.
September 12
​If all goes well, new rules governing riverfront development and protections in the Mississippi River corridor, our local national park, could be in place by the end of 2016. Photo by Tom Reiter
FMR encourages all river-lovers to contact Judge Lipman by July 6, 4:30 p.m. to let him know that you support strong river development rules in our national park, tell him why the river is important to you and share what you would like to see protected or improved. Read on to learn more about the proposed rules for the metro-area stretch of the Mississippi River and how to contribute your voice.
May 10