Our work takes place on Dakota homelands. Learn more.
--
Location
Riverside Park
St. Paul Park
United States
US
FMR works with many youth and service groups each year. Groups learn about and take care of the river through stenciling outings, cleanups and educational programming. (Photo by Tom Reiter)
Looking forward to warmer weather? We are too! FMR is starting to book spring programs for youth and group outings. If you are interested in a stenciling event, trash cleanup or indoor educational opportunity with FMR staff, we'd love to hear from you soon.  >>
February 20
An example of a mural that artist Liv Novotny created for another local nonprofit organization. Novotny will design and install a water quality mural for FMR in St. Paul this summer. (Photo used with permission.)
As we look to the new year, FMR is excited to announce the selection of Liv Novotny as the lead artist for our third water quality mural project. Novotny will work with the community to design and install a water quality mural in St. Paul this summer.  >>
January 2
FMR Super Volunteer Allan Tokuda tends native prairie at Ole Olson Park in North Minneapolis. Over 700 people volunteered at FMR projects like this in 2018, contributing more than 3,000 hours to habitat creation, restoration and stewardship. (Photo by Tom Reiter for FMR)
In 2018, volunteers of all ages got their hands dirty with FMR at community events. Together over 700 individuals gave a combined 3,082 hours of service to help protect, enhance and restore the health of the river and our local communities. In gratitude, we've gathered some of our favorite photos from this restoration season. >>
December 14
Andersen United Community School students have removed garlic mustard from the Minneapolis gorge for the past three years. This year, they beat the FMR record for amount of plants removed at one event. In two hours, 82 students removed 23 bags of garlic mustard.
A giant thank you to the hundreds of young river stewards who helped us protect and restore the mighty Mississippi this year.  >>
November 8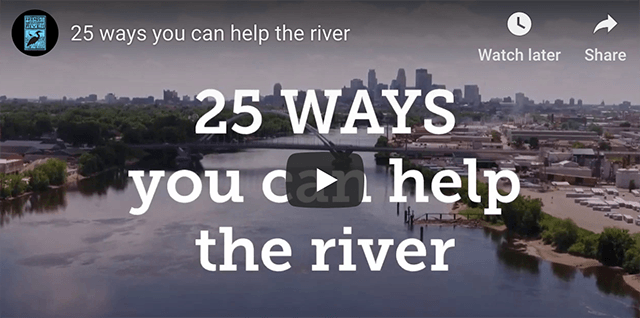 Whether it's unclogging a storm drain or lobbying at the Capitol, we hope you'll find something new to try on this list of 25 ways you can help the river. >>
After hearing from dozens of community members (including many FMR River Guardians), the Inver Grove Heights city council unanimously voted to save River Heights Park on Monday, May 14.
The council had been considering carving up and selling the 7.5-acre undeveloped natural area as three 2.5-acre lots for housing developers. Instead, the city, FMR and neighbors are going to work together to make the park more accessible — adding a park sign and bench, with details to be determined — while keeping it a natural area and restoring important bird habitat. >>
September 19
Our work takes place on Dakota homelands. Learn more.
--
Location
3M's oak woodlands
Cottage Grove
,
MN
United States
Minnesota US
Join FMR staff and volunteers working along the beautiful Mississippi River on the Minneapolis side of the river gorge. This event will take place off of West River Parkway at 44th St, an area where we've removed invasive shrubs and are restoring native habitat for wildlife and water quality.
Location
Mississippi River Gorge along West River Parkway
Minneapolis
,
MN
United States
Minnesota US
You can now visit these colorful, water quality-themed mural at Como Lake! This mural is the second design by community members to decorate Como Lake's shores.
Ever wondered why so many metro lakes turn green in the summer?
For St. Paul's Lake Como and many others, one main reason is nutrients that come from neighborhood lawns and streets. After it rains, fertilizer, leaves and grass clippings are directed into our local lakes, creeks and rivers via storm drains, in turn feeding algae and excessive plant growth. 
At Como, a pair of murals reminds us of this important connection between our yards, streets, lakes and rivers, and celebrates the community in the process. >>
July 2
Pages