The 2018 Minnesota legislative session resulted in very good news for a 48-acre riverfront site in North Minneapolis known as the Upper Harbor Terminal. An influx of $15 million state dollars will help kickstart its redevelopment into housing, offices, stores, restaurants, an amphitheater, parks and trails. >>
June 5
Part of our local national park — River Heights Park in Inver Grove Heights — is being considered for disposal by the city.
Just eight months ago, FMR teamed up with neighbors to help save River Heights Park in Inver Grove Heights.
Now the park is on the chopping block once again. And the neighbors and FMR are back in action. >>
April 9
To celebrate our 25th year, each month in 2018 FMR staff will profile places along the metro Mississippi River that are near and dear to us, places that connect to FMR but that we also enjoy in our own downtime. By the end of our silver year, we'll have built a map of 25 special river places for you and yours to learn about, visit and enjoy.
This month: Minneapolis's riverfront Above the Falls.
The Minneapolis riverfront north of St. Anthony Falls is an interesting juxtaposition of the natural, urban and industrial. Here you can enjoy bike and pedestrian trails, or rent a kayak to see a heron rookery, restored prairie, riverfront raingarden parks and sculptures, as well as industrial relics. You'll also want to visit often over the next decade to experience the changing riverfront, as more industrial sites are converted into public parklands.
February 12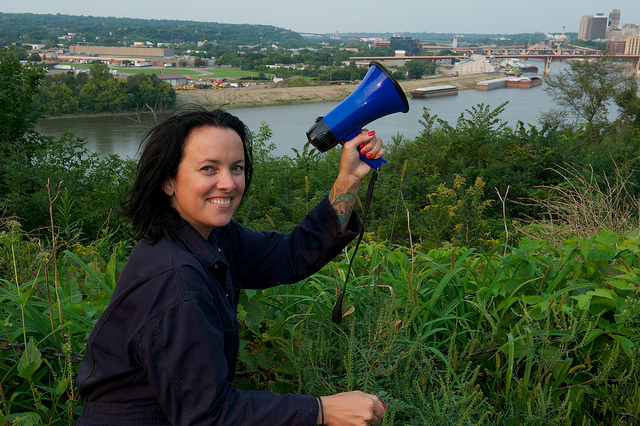 We're incredibly grateful and delighted to report that our community of river advocates more than doubled in 2017!
River Guardians helped to save River Heights Park in Inver Grove Heights, rein in water quality rollbacks at the Capitol, worked for improved public access to the riverfront in North and Northeast Minneapolis and much more. Check out the 2017 best-of photos! >>
December 15
Ever wondered why you can take a train from the Mall of America to Minneapolis and Minneapolis to St. Paul, but not from St. Paul to the mall? The missing piece of this transit triangle just met an important milestone in it's planning process. Here's what we love — and what we don't — about the plans so far.
November 13
The river is just a few blocks away but it may as well be miles. But community members, FMR and our Northside partners are working to change that. (Photo courtesy of Blue Cross Blue Shield.)
What's it like to walk to the river along Dowling Avenue North in Minneapolis? Harsh, inspiring and beautiful are all words that were used when we joined neighbors in lacing up our walking shoes and heading to the river on two warm September evenings.
With great change on the horizon for where Dowling meets the Mississippi (new riverfront parkland!), we walked and talked and imagined the possibilities. We'd hoped that bringing people to these spaces would spark interest in advocating for improved public access to the riverfront and we were not disappointed. We hope you'll join us too! >>
October 10
Part of our local national park — River Heights Park in Inver Grove Heights — is no longer slated to be turned into lots for private homes.
The city of Inver Grove Heights was considering selling River Heights Park, part of our local Mississippi River national park, for housing. But neighbors stepped up to defend it, and with a little support from FMR, the park has been preserved!
Inver Grove Heights is a valued FMR habitat restoration partner and we look forward to continuing our work together.
August 11
Over 60 Northsiders joined us to learn about and discuss ways to reconnect North Minneapolis and the Mighty Mississippi in March 2017.
The FMR advocacy crew is switching gears. After spending 2016 researching how to better connect North Minneapolis with the Mississippi River we're shifting to advocating for those community-identified changes. We marked this transition with a final presentation by FMR's CURA research assistant Eric King and a panel discussion with attendees, covering everything from potential gentrification to a possible land-bridge over Interstate 94.
April 10
FMR is shoring up our advocacy program. In addition to offering opportunities to sign petitions, write letters and speak up at meetings, we're coordinating fun and educational happy hours, training sessions and networking events. We're also amping up our communications to better support our growing community of river advocates. Help name our improved advocacy program and sign up to join us!
February 3
A number of Mississippi Messages readers have contacted us since the leaves fell from the trees about a new building on the river located just north of Minneapolis' Lake Street bridge. We investigated and have some answers, as well as several related questions and concerns.
December 12
Pages